REQUIRED READING
NEW! Free White Paper Download
---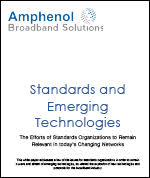 Standards and Emerging Technologies – The Efforts of Standards Organizations to Remain Relevant in Today's Changing Networks
November 2017
This white-paper addresses a few of the issues for standards organizations in order to remain current and ahead of emerging technologies, as related the explosion of new technologies and protocols for the broadband industry.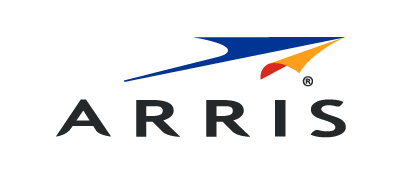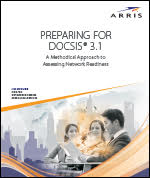 Arris | Preparing for DOCSIS 3.1
PREPARING FOR DOCSIS®3.1 – A Methodical Approach to Asesing Network Readiness
October 2016
In the service provider community, the conversation around DOCSIS® 3.1 is typically centered on the question, "How do I make sure I'm ready?" As the benefits of DOCSIS® 3.1 are many, so too are the steps to prepare.
This paper provides the framework that guides service providers through assessing network readiness in the first stage of DOCSIS® 3.1 evolution. This stage includes inventories, measurements and analyses that provide the baseline needed to architect a phased evolution that ensures service continuity, bandwidth gains, operational efficiencies and minimized costs.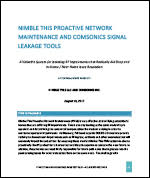 Nimble This Proactive Network Maintenance and ComSonics Signal Leakage Tools – A Valuable System for Isolating RF Impairments that Radically Aid Drop and In-Home / Near Home Issue Resolution
August 18, 2017
Recent testing with the Nimble This PNM suite and ComSonics' Mini Mobile Marker (M3) & QAM Compass have demonstrated the two products together can radically reduce or completely eliminate the time to locate drop and in-home / near home based impairments.
This valuable report describes the findings of an extensive field test in real world scenarios and provides recommendations and best practices for using these products together as well as optimal home wiring together to ensure your plant is clean and your subscribers experience the highest level of service.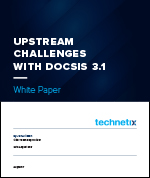 Upstream Challenges With DOCSIS® 3.1
August 24, 2017
The introduction of DOCSIS® 3.1 means that higher modulation schemes, higher levels and higher bandwidth increase the load on the cable network. The downstream increases from several QAM channels used in DOCSIS 3.0 in spectrum carrying up to 862 MHz with the addition of a couple of OFDM channels in spectrum expanding up to 1.2 GHz. All these changes greatly increase the load on the equipment used in the network. However, this is nothing compared to what happens in the upstream. The big change is the bandwidth from the current low split of 42/54 MHz in the USA or 65/85 MHz in Europe to mid-split in the USA 85-105 MHz and high-split in Europe 204/258 MHz. In the USA, the bandwidth has grown by 216% and in Europe by 331%. In addition to the phenomenal bandwidth growth, increased loss in the cables is a reality and as a result, DOCSIS 3.1 increases the maximum level of the upstream carriers by 6dB to 57dBmV per 4 channels.  This White Paper summarizes the main challenges and describers what to do to prevent possible problems.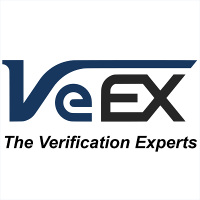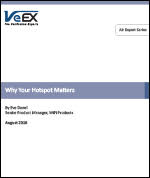 VeEX | Why Your Hotspot Matters
Why Your Hotspot Matters
August 2016
WiFi-enabled devices connect to the Internet via a WLAN network and a wireless Access Point (AP), or hotspot. WiFi is the access technology of choice used not only in homes but in businesses and public spaces worldwide. It cannot be treated as a 'convenience' anymore, but as a Service, with all of the customer expectations that it entails. Yet very often this piece is overlooked during the installation process, leading to costly service calls and troubleshooting.
This white paper examines the WiFi installation process including signal coverage, interference, performance and security.