FIBER OPTICS



---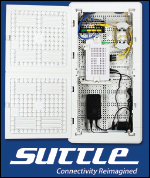 CONNECTIVITY SOLUTIONS
Suttle's MediaMAX™ brand for home/business service distribution includes MAX panels and modules, jacks and wall plates that meet today's need for fiber, CAT6, COAX and wireless connectivity. Plastic panels minimize wireless interference and feature improved venting for superior heat dissipation. Designed for greenfield and brownfield applications, panels can securely house gateways, ONTs and BBUs. Founded in 1910, Suttle specializes in connectivity solutions for hybrid networks.
800-852-8662
www.suttlesolutions.com
---

FIBER SOLUTIONS
Tii Technologies Inc. delivers innovative fiber and copper solutions to meet the most demanding requirements and changing needs of the communications industry. Tii is positioned to provide world-class, product development and quick turnaround manufacturing for a wide range of fiber and copper network solutions engineered to ensure performance, safety and reliability.
888-844-4720
www.tiitech.com
---

FIBER SOLUTIONS
VeEX Inc. Fiber Optic solutions address various stages of fiber network construction, maintenance and restoration tasks and are optimized for FTTx/PON, mobile backhaul, and converged network infrastructures. Multi-functional products include OTDRs, Optical Power Meters, Optical Spectrum/Channel Analyzers, Visual Fault Locators, Laser Sources, and Fiber Inspection Scopes. Mobile and Cloud-based test analysis and result storage streamline workflow, data archiving and asset management.
510-651-0500
sales@veexinc.com
www.veexinc.com
---

OPTICAL/RF ACCESS PLATFORM
 Technetix DBx is the only access platform that enables RF to optical migration without a forklift upgrade.  Designed as a modular DOCSIS 3.1-ready solution, DBx allows technicians to convert an RF amplifier to an optical node using convenient field-swappable modules. Down-time for this upgrade is less than 10 minutes and significantly improves subscriber experience. This energy efficient solution features fully digital controls, and a DOCSIS 3.0 transponder.
866-956-5608
www.technetix.com 
---

OUTDOOR ACCESS SWITCH
 Vecima The Entra Access Switch is designed to extend the capacity of fiber networks without requiring new fibers. Significantly reduce capital costs for short run fiber extension, deep fiber deployments, and R-OLT for PON. With up to 80 Gbps bidirectional and 8 x SFP+ dual 10/1GbE interfaces, the Entra Access Switch is ideal for aggregation, mobile network backhaul, supporting business services and remote 10G-EPON OLT.
+1-306-955-7075
sales@vecima.com
www.vecima.com
---

PREMISE UPS
 Lindsay Broadband Inc. Model LBP-UPS-F is Lindsay's new game-changing customer premise uninterruptable power supply incorporating lithium battery technology to deliver an industry breakthrough in lowering the cost of FTTh deployments. Features include up to 16 hours of battery back-up, the smallest foot-print in the market, advanced charge and safety management, 0 transfer time output, surge, overvoltage, overload and short circuit protection.
800-465-7046
contactus@lindsaybroadbandinc.com
www.lindsaybroadbandinc.com
---

REPAIR SERVICES
ComSonics® has been providing the highest quality electronic and fiber optic repair services since 1968. Our services differentiate on quality, turnaround and overall customer experience. In today's competitive broadband environment, providers must be confident in the integrity of their aging cable plants. Unexpected outages from substandard, low cost repair services damage profitability and should not be tolerated.
800-336-9681
www.comsonics.com
---

RFoG ONU's
Lindsay Broadband Inc. RFoG ONU's available from stock for your MDU, business parks and residential deployments. Available upstream wavelengths 1310nm, 1610nm, and CWDM with optional PON pass-through port. RF diplex filters 42/54, 65/85 and 85/105MHz with optional high output levels to service 64 customers in MDU's
800-465-7046
contactus@lindsaybroadbandinc.com
www.lindsaybroadbandinc.com
---

TOOLS
 Cable Prep Focus Tool: Specially designed for servicing fiber optic cable connectors in high-density patch panels in Central Office, FTTP, and OSP applications, the FOCUS tool makes it easy to insert and remove a small-form-factor (SFF) connector without disturbing adjacent connections. Its patented design includes an integrated flashlight for individual port illumination. The Focus tool works with the following connector types: SC, SC2, MU, LC, SFF and MTRJ connectors. Please see our website for details.
800-394-4046
www.cableprep.com