Cable-Tec Expo Recap 2017
By Ron Hranac –
During the week of October 16th, some 8800 people made their way to the Colorado Convention Center to attend 2017's SCTE·ISBE Cable-Tec Expo. The last time Expo was held in Denver was September 2014, and Mother Nature surprised attendees with snow — lots of it. This time, though, the weather was pleasant, with daytime highs in the 70s. A tip o' the hat and a sincere thanks to Expo co-chairs Jim Blackley (Charter) and Terry Cordova (Altice USA); members of the Program Committee; the Society's Board of Directors; SCTE headquarters staff; exhibitors; and moderators and speakers for an enjoyable confab.
---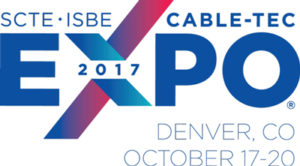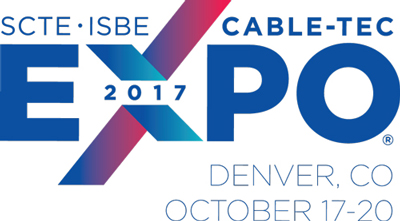 Expo week featured a variety of activities involving several associations, including the American Cable Association (ACA), the Cable Center, the Cable TV Pioneers, the National Association for Minorities in Cable (NAMIC), the National Cable Television Cooperative (NCTC), and Women in Cable Telecommunications (WICT). During the International Breakfast, the U.K.'s Society for Broadband Professionals and the International Society of Broadband Experts (ISBE) — the global arm of SCTE — signed a Memorandum of Understanding on cooperation, harmonization, and training.
A big help for a very busy schedule was SCTE's Expo 2017 mobile app, available from the respective app stores for Android and iOS platforms. The Society has had a free app each year for the past few years, and they are must-haves. Definitely a thumbs up!
My week at Cable-Tec Expo got underway with an SCTE·ISBE Engineering Committee meeting on Monday. Early the next morning I headed for the half-day remote PHY seminar, which turned into a packed-to-the-rafters event. The venue was set up for 175 people, which filled up in minutes and became standing room only — three quarters of the way around the meeting room! SCTE and convention center staff quickly set up another 175 seats in the adjacent room (along with video and audio feeds), and that filled up to standing room only, too. All told, about 400 people took advantage of what turned out to be a very popular session. (Quick side note: If you're unfamiliar with remote PHY, that's a form of distributed access architecture. With remote PHY, the media access control layer and physical layer of a CCAP or CMTS are separated. The MAC stays in the headend or hub, and the PHY — a remote PHY device with both downstream QAM modulator and upstream burst receiver functionality — is located in a standalone chassis called a remote PHY shelf, or outside in a remote PHY node.)

A few interesting show stats: Of the 8800 attendees, 22 percent came from outside of the U.S., and 19 percent were first-timers. There were more than 400 exhibitors set up in the convention center. This year there were 98 technical workshop sessions (now being called Fall Technical Forum sessions as a result of collaboration with NCTA and CableLabs), up by more than a third compared to the number of workshops at 2016's Cable-Tec Expo. Last year I lamented the lack of a USB thumb drive with Expo proceedings, but there is some good news: All of the papers presented during this year's technical sessions are available on-line at https://www.nctatechnicalpapers.com/paper/2017.
Wednesday's well-attended opening general session featured thought-provoking keynotes by Mike Fries, CEO of Liberty Global, and Tom Rutledge, Chairman and CEO of Charter Communications. Important takeaways were the superiority of cable's infrastructure and the importance of good service. Expo 2017 co-chairmen Blackley and Cordova then shared comments with the audience, followed by an operations panel that included Charter's Deborah Picciolo, Comcast's Ed Marchetti, and Cox's Patricia Martin, expertly moderated by Leslie Ellis. The annual awards luncheon later in the day featured a keynote panel with Comcast Cable President & CEO Dave Watson and ARRIS CEO Bruce McClelland.
The nearly 100 technical sessions spanned six tracks: business services, evolved networks, cloud virtualization, security and authentication, customer journey, and future services and technologies. I attended a couple top-notch and technology-heavy workshops on full duplex (FDX) DOCSIS®, moderated a panel on DOCSIS 3.1 technology advancement, spoke in the "Be Prepared! Essential Topics in Business Continuity and Disaster Recovery" session, and emceed the closing day's ham radio operators' reception.
This year's Expo Evening was held in the convention center's exhibit hall, and incorporated the inaugural CORTEX Olympics. The latter brought together two competitive events held concurrently: the always popular International Cable-Tec Games and the IP Challenge. Greg Brakefield of Comporium Communications won his fourth Cable-Tec Games title since 2011. 2016's champion, Greg Babinski from Charter Communications, took home silver medal honors, and Nathan Sidlinger with Mediacom Communications won the bronze medal.
The IP Challenge saw Kevin Troub of Cable ONE take the championship; Douglas Van Gessel, also with Cable ONE, finished second; and 2014 IP Challenge champion Jamie Griffin of Full Channel, placed third.
Among my favorites in the exhibit hall were at least two operational demonstrations of FDX DOCSIS (full duplex means downstream and upstream RF signals are present in the same overlapping frequency spectrum at the same time; yes, it works!), two different vendors showing remote PHY interoperability with each other's equipment in their respective booths, and lots of DOCSIS 3.1 technology. Indeed, I think it's safe to say DOCSIS 3.1 is mainstream.
Recognizing the Best
An important part of Cable-Tec Expo is recognizing what the Society calls exemplary achievers. 2017's Women in Technology award recipient was Deborah Picciolo, Charter's Senior VP of the West Region. Co-winners of Chapter Leader of the Year — formerly called Chapter Member of the Year — were Raul Velasquez (Pioneer Communications) of the High Plains Chapter and Aaron Weimer (Comcast) of the Chattahoochee Chapter. The International Engineering Professional award recipient was Rolando Barja, Director Redes Coaxiales, Cotas RL. Comcast's Lisa Leaunvankham was recognized with the inaugural Rising Leader award; Guavus (Guavus Reflex) the Innovators award; and yours truly received the David Hall Award for Best Technical Presentation from the Society for Broadband Professionals. Jason Hibbard, Director of Engineering for Comcast, and Daniel Howard, Director of Consulting Services for Hitachi Energy & Environmental Efficiency were elevated to Senior Member status. David Fellows, co-founder and CTO of Layer3 TV was recipient of the Excellence in Standards award. Fellows and Dr. Rickey Luke, CTO of Cable TV of East Alabama, were inducted into the Society's Hall of Fame, and Dr. Martha Soehren, Senior VP and Chief Talent Development Officer for Comcast received the Chairman's Award. And the best for last (and a secret until its presentation): The prestigious Member of the Year went to Comcast's Ed Marchetti, Senior VP of Technical Operations. A sincere congratulations to all!
Networking
One of my favorite things about Cable-Tec Expo is the opportunity to get together with long-time friends and colleagues, many of whom I've known since the 1970s or '80s. Some of those get-togethers happen in various Expo receptions and sessions, some in the hallways in between technical workshops, and some in the exhibit hall. One such encounter was with the FCC's John Wong (also a long-time friend), during which we chatted about the Commission's new Rules for digital proof-of-performance and digital leakage. H. Mark Bowers and I are planning an article on those new Rules in the spring issue of Broadband Library.
During the Annual Membership Meeting and Appreciation Reception outgoing SCTE·ISBE Board members were thanked, and new board members introduced. The Chairman's gavel was passed from outgoing chair Tony Werner (Comcast) to newly-elected chairman Bill Warga (Liberty Global). Other officers include newly-elected vice chairman Tom Adams (Charter), and two returning officers: treasurer Christina Whitaker (Comcast) and secretary Steve Williams (Charter).
Mark Your Calendar
2018's Cable-Tec Expo will be held Monday, October 22nd through Thursday the 25th at the Georgia World Congress Center in Atlanta. Kevin Hart, executive vice president and Chief Product and Technology Officer for Cox Communications, will serve as Program Committee chair for the 2018 event. See you there!
---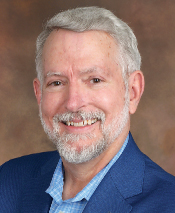 Ron Hranac
Technical Leader, Cisco Systems
Ron Hranac, a 44-year veteran of the cable industry, is Technical Leader for Cisco's Cable Access Business Unit. A Fellow Member of SCTE, Ron was inducted into the Society's Hall of Fame in 2010, is a co-recipient of the Chairman's Award, an SCTE Member of the Year, and is a member of the Cable TV Pioneers Class of '97. He received the Society's Excellence in Standards award at Cable-Tec Expo 2016. He has published hundreds of articles and papers, and has been a speaker at numerous international, national, regional, and local conferences and seminars.