SCTE•ISBE So Much to "Show" For…
Cathy Wilson, Broadband Library publisher, spent a few minutes chatting with SCTE·ISBE President and CEO Mark Dzuban about 2017's Cable-Tec Expo. Here are some highlights from that interview.
---
CW: First of all, we're so glad to see you back at Expo healthy and happy! Expo 2017 was an amazing show as usual, what was the main thing you accomplished and what's in store for Cable-Tec Expo 2018?
MD: It was good to be back! This year's show was highly successful because of the contributions of our many partners: our attendees, our partner organizations, our exhibitors, our speakers and moderators, and our hard-working SCTE·ISBE staff. We had an unprecedented 98 Fall Technical Forum sessions, an increase of 36 percent compared to Cable-Tec Expo 2016's technical workshops. The buzz and the energy were tremendous — the show focused on problem solving, solutions and comradery around thinking.
We're excited that Cable-Tec Expo 2018 — which will be held at the Georgia World Congress Center in Atlanta October 22nd through the 25th — is in the hands of Cox's Kevin Hart, who will serve as Program Committee Chairman — he is a veteran from Expo 2013. The learning from Expo 2017 will be forwarded to Kevin to build upon. With Pat Esser, I'm sure it will be another successful event.
CW: There were nearly 100 technical workshop presentations this year. Looking back at the wide range of subject matter, which two or three general topics stand out as more important in the short term for cable operators? What about long term?
MD: It's hard to pick favorites, but three general topics stand out: remote PHY, wireless, and cyber security. Each one has its tactical and longer-term planning components.
CW: Cable-Tec Expo's remote PHY seminar exceeded expectations with about 400 people in attendance. Indeed, a second meeting room was added at the last minute, and even then, the session was still standing room only. What does that say about the importance of distributed access architectures to the Society and the industry?
MD: The remote PHY seminar is a good example of topics that are very pertinent to the industry that the Society deems appropriate to present in a community setting — of which there were many SCTE's on-going focus is problem solving and sharing ideation in the applied science. The concept of distributed access architectures is just one component of that.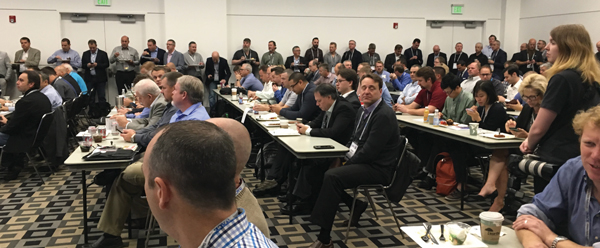 Standing room only at the SCTE•ISBE Cable-Tec Expo the remote PHY seminar
CW: During Expo's International Breakfast, SCTE's global arm, the International Society of Broadband Experts (ISBE), signed a Memorandum of Understanding with the U.K.-based Society for Broadband Professionals that provides a framework for "continuing and future cooperation" related to training practices. Can you comment on this agreement a little more?
MD: The relationship continues to build. This agreement sets the foundation to establish a working group in which we will identify ways to harmonize mutual activities and objectives, especially related to training. We are continuing to explore areas to work together; our common interest is in support of the cable industry's success and competitiveness.
CW: The Cable TV Pioneers 51st Annual Banquet was a huge success this year; hats off to SCTE·ISBE for sponsoring it during Expo. Who was the one Pioneer that you saw that evening that brought back a "remember when" moment or event?
MD: Charlotte Fields. Charlotte was a great partner at AT&T and Bell Labs when I was their 'cable guy.' She was a joy to work with then and I congratulate her on continuing her stellar career. She is now with Charter Communications as Senior Vice President Applications Platform Operations. Charlotte… you will always remain one of my favorite cable people!
---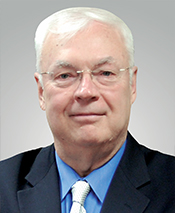 Mark L. Dzuban
President/CEO, SCTE
mdzuban@scte.org
As President and CEO of SCTE•ISBE, Mark Dzuban is continuing a lengthy career of telecommunications leadership. Mark has been instrumental in positioning SCTE•ISBE as a leader in energy management and technical education, driving creation of the Energy 2020 program, the CORTEX Expert Development System™ and other programs and services that build value for the cable system operators, technology partners and individual members. Mark was honored with the prestigious NCTA Vanguard Award in 2011.
---