Guiding Trends for Tomorrow's Smart Home Wireless Services
By Charles Cheevers
What changes will dominate the home wireless services market in the next five years? Several fundamental trends are emerging that will guide device and solution requirements for next-generation homes. The driving forces behind these shifts include:
• Higher WAN speeds growing to Gbps burst modes that will need to be reflected in home Wi-Fi® connection speeds.
• More 4K HDR video (20 Mbps-45 Mbps) sent over Wi-Fi networks in the home to STBs in remote locations.
• An increasing number of home smart speaker and AI-based devices that integrates IoT radios and software hubs.
• The new role of the smart media device (SMD) in driving visual smart services.
• Convergence of outdoor 5G wireless aspirations and services with the indoor overlap of Wi-Fi connections.
• Homeowners determining their smart solution providers and often settling on two or three different companies.
Higher WAN speed and the increase in 4K HDR video over Wi-Fi together drive changes in the residential gateway and standalone APs for two-box solutions. They also add another device to the home, the wireless extender ensuring 500+ Mbps potential coverage to all points of the household. The typical changes are:
• 3×3 Wi-Fi moving to at least 4×4 802.11ac Wi-Fi in the default gateway, which allows near-Gbps speeds in the same room as the gateway.
• Transitioning from Wi-Fi 5 to Wi-Fi 6, which enables 25% throughput to regular AC clients and dual band concurrent (DBC) 4×4 Wi-Fi 6 to provide higher Gbps speeds in the home and at further range.
• Introducing tri-band devices, which use tri-band concurrent (TBC) 2.4 GHz 4×4 and 5 GHz 4×4 in homes that require more premium Wi-Fi services and even higher throughput speeds, will create a 5 GHz Wi-Fi backhaul between multiple AP devices ensuring Gbps speeds to all end clients.
• By 2021 we will see the emergence of 6 GHz Wi-Fi applications in the UNII-5 to UNII-8 bands to support high-capacity projects that can be driven by service providers. They include:
o Employing 6 GHz channels in Wi-Fi backhaul applications and allowing Gbps DBC extenders or even more powerful tri-band extenders to use 6 GHz for backhaul.
o Using 6 GHz STB solutions that allow high capacity video applications to run with high reliability of delivery, even offering 8K service with up to 100 Mbps.
o Utilizing 6 GHz Wi-Fi in 4G and 5G femtocells for reliable connectivity to the primary gateway. The use of 6 GHz allows for the delivery of scheduled OFDMA 1588 packets to a flexibly placed femtocell close to where users primarily use their 4G or future 5G devices.
• There has been a strong push to standardize the connection and interaction between wireless mesh devices. Standards like Wi-Fi CERTIFIED EasyMesh™ & Data Elements and BBF USP will drive interoperability between wireless meshing solutions and allow service providers to differentiate the algorithms and applications they offer for a robust and transparent wireless home network.
Service providers are having trouble finding the right IoT and smart home solutions. They need to determine what role they play in smart home services and where the revenue comes from to determine the business case. One potential strategy that is quickly gaining support involves:
• Merging a smart speaker and an IoT hub in a device that can "follow the money" to be deployed when a customer is interested in a smart home/IoT solution.
• Combining ZigBee®, Zwave®, Thread®, and Bluetooth® Low Energy to cover all the consumer home options for a lower-power IoT protocol solution.
• Employing IoTivity as an aggregation layer protocol for ZigBee, Zwave, Bluetooth Low Energy, and Thread devices. Plug-in IoTivity architecture provides for use with native clients or as a server layer for the other popular home protocols.
• Consolidating popular smart solutions and IoT hubs, which will help providers aggregate home services across in-demand vendors. These hubs place higher DRAM and flash memory requirements on the new devices, but they also allow homes to support smart applications with a single hub and let the service provider offer quality improvements and integration.
• Combining smart speakers and AI assistants with IoT hubs will ensure these fast-growing device categories can help with service providers' next generation needs. The integration of Amazon Alexa, Google Assistant, and other voice products will make this a must-have device for the next generation of service providers.
The STB — or at least its location and ownership of the largest home screens — has a role to play in this new wireless connected home. On the one hand its location drives the requirement for even better Wi-Fi throughput at range. On the other hand, it's typically located in 2.3 rooms where people spend most of their time about eight feet from it. Given its control of the largest screens in the house, this makes it the ideal device to get a facelift for the converged wireless smart home. The SMD is the replacement for the STB. It incorporates the following important features:
• Superior Wi-Fi performance, typically 2×2 in Wi-Fi 6 and up to 4×4 in Wi-Fi 5.
• Addition of far-field microphones and smart speakers that changes the shape of the device — for premium audio quality add a 100+ W soundbar.
• Use of multiple wake words and AI assistants that are specific to service providers making AI smart assistants even more powerful for consumers.
• The addition of IoT low-power radios to add an IoT hub. Bluetooth Low Energy can be free if it's also used for remote control and audio streaming and additional ZigBee or Zwave added if required.
• Introduction of the Visual Smart Assistant. The SMD can drive new video services (typically built around smart visual skills and assistants) to the home screen. These tools enhance the smart home experience and allow service providers-specific skills like customer self-help, along with other convergence applications across broadband and video services.
Finally, providers can complete the new wireless and smart home by considering other trends like LTE™, CBRS, LoRA Alliance™, and 5G. There are several ways to leverage a home — particularly one at the end of a cable or fiber network — and add these technologies to the backhaul of the wired system.
• LTE, CBRS and fixed wireless access solutions — providers can add femtocells connected to the primary fixed wire gateway or access point to provide in-neighborhood or in-home services. They can also offload LTE and 5G handset usage for the home to Wi-Fi, but the licensed spectrum is better for larger homes.
• LoRA Alliance — the range of LoRA makes it feasible to put inexpensive LoRA base stations in the home and potentially place LoRA cells over 1 km from the home. This creates a low cost LPWAN solution that can be leveraged for neighborhood IoT or smart applications.
• 5G — current 5G applications are focused more on FWA and outside mobility. However, there have been discussions about trying to extend the range of 5G NR signals or applying 5G femtocells in the home. While sub-6 GHz 5G has the scope to be effective for residential use, millimeter wave 5G will suffer high attenuation and propagation loss that may make 6 GHz Wi-Fi the better home high-speed connection. One view is that the 60 GHz WiGig (802.11ay) standard offers an unlicensed solution to millimeter wave usage in the home that could drive its use for 5G services in a more universal and standardized fashion than licensed frequency band femtocells.
In the next three-to-five years, wireless smart homes will drive new high-speed services by leveraging Wi-Fi 6, 6 GHz and 5G NR and the standards work being done across IEEE, 3GPP, Wi-Fi Alliance, and others.
---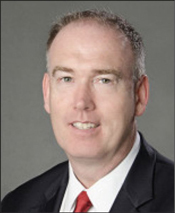 Charles Cheevers
CommScope
Charles Cheevers is the Chief Technology Officer for CommScope's Customer Premises Equipment (CPE) Business Unit, where he is responsible for the three-to-five-year technology vision. Charles works with service providers across the globe to help shape the future of connected media devices and next-generation premium home services to deliver an exceptional consumer experience.
---