Cable's Future's So Bright We Gotta Wear Shades
By Jeff Finkelstein
As a "Futurist" and innovator, I spend a lot of my time researching and chatting about past, current, and future technology trends, while trying to figure out where our industry possibly needs to head for the services of the future. In this article I am going to make some predictions for 2019 and hope to once again prove the rumor that cable is dead false.
Recently, as a mnemonic device to help think about future technology, I began to break the problems we try to solve as a way to improve our business practices down into four distinct areas to help me focus. I call it the "ABCs", though technically it should be the "ABCDs". TLAs are much cooler than FLAs, so "ABCs" it is…
My ABCs are:
Automation
Business services
Capacity
Decentralization
Putting it in slightly more detailed terms as related to the business needs; Automation and Decentralization are focused on operational cost reduction and freeing up our people resources to focus on the customer and not the process, where Business services for both business and residential customers, along with Capacity, are meant to create new revenue growth opportunities by focusing on technologies supporting new services.
So, on to my prognostications for 2019. My list is as follows:
My Information Is Safe, Right?
Just look at the not-so-good ways Facebook made the news in 2018. We need to learn from that and continuously improve the ways we protect our customers' data, not just at the perimeter but throughout the lifetime of that information. It is essential from the start with authenticity (prove who you are) and trust (zero trust from the beginning or as Agent Mulder so famously said, "Trust No One"). I expect that we will start to use AI for analyzing the wealth of data we receive and look for untrusted actors.
Cable Is Dead, Long Live Cable!
Constant network transformations are the new normal whether we are using full duplex, distributed access architectures, virtualization, or extending the available spectrum to add capacity. The reality of how we avoid stranded capital becomes part of our technology strategy by thinking multiple steps ahead. Watch for new specification projects to kick off in 2019 looking at new customer experiences and higher capacity networks through spectrum expansion. Just look at the recent 10G announcement. We are focused as an industry at creating a 10 Gbps network, but we need to maintain a holistic view into what are the enabling technologies for faster speeds and include ways to reduce latency and jitter. The future networks are fast and consistent.
Automation Is Only The Starting Point
The rise of AI and automation software means humans are moving away from repetitive tasks and are increasingly focused on tasks only humans can do, specifically think creatively and interact with other humans. For workspaces, this means people spend less time sitting at their desks and more time in a diversity of settings. The most innovative companies are no longer thinking about workspace as a single location, but rather a network of spaces that employees can access based on what they are trying to achieve, whether it is to brainstorm a new product, train a new sales team, impress a client, or work quietly on their own. Spotify and Uber have revolutionized access to music and mobility by giving everyone a personalized playlist or a private driver for a specific occasion. Employees will increasingly expect the same level of choice and diversity from their workspace.
Virtualization Is Not Automation
Containers are the hottest topic in IT since the cloud itself. For a while, everyone was obsessed with what technology leaders like Google were doing with the technology, and the top three topics of conversation at any DevOps meetup were containers, containers, and containers. But as the rubber hits the road, enterprises are increasingly driven by what containers allow them to achieve, which is multi-cloud operations and highly-available global scale applications, rather than the technology itself. So as container adoption accelerates, people talk less about containers and more about the applications and services that they enable.
Just as multi-data center deployments became the new normal years ago for companies that have been successful at digitally competing in their chosen market, multi-cloud deployments will begin to usurp their place. The Uptime Institute's latest report shows that, while single cloud designs can benefit enterprises, they've become the second-leading cause of application downtime, much like single data center deployments were in the past. Those moving their data-driven apps to the cloud will need to architect them in a way so they are hybrid and multi-cloud in design to ensure zero downtime and uniform performance for their global customer base.
5G Is The New Black
Businesses will need to start preparing for how they will leverage 5G to gain a competitive edge. Across almost every vertical, increasing network bandwidth and speed while lowering latency can improve efficiencies at nearly every department level. But while businesses can be near certain about how they can effectively apply 5G to improve operations, predicting what security threats will come is going to present a significant challenge for IT. With IoT growth posing huge unknown risks to enterprises with the introduction of 5G, businesses will increasingly need to invest in both technology and employee training to prepare for the next generation threat landscape. What's more is that 5G will not only give rise to new threats, but it will also provide cyber criminals with new opportunities to carry out attacks that we have seen grow in popularity over the years with greater force and impact. With this in mind, even an organization that does everything right to combat threats posed by 5G could still be impacted just as easily as those that are less security savvy.
Speed is king, but content is Queen. All hail the Queen!
After years of hype, next-generation 5G networks from wireless companies are finally popping up in American cities, with the promise of blazing-fast Internet speeds over the air for phones, cars, gaming gear and all sorts of connected devices. But it probably won't change your life in 2019. That's because these initial networks are limited to particular neighborhoods — not entire cities. It will take years for 5G to be as common as the 4G LTE networks we use today. Meanwhile, expect marketing wars where carriers try to convince us their not-really-5G networks are already 5G.
And then there's a hardware problem: The first devices that can take advantage of these networks are just Wi-Fi hotspots. Apple will wait until at least 2020 to put 5G into iPhones, according to leaks from inside Apple. Samsung has promised it will release a 5G-compatible smartphone at some point in 2019, but the increased demands of the new network are likely to drain the battery quickly.
Immersive Technologies Are The Future Of Content
Through 2028, conversational platforms, which change how users interact with the world, and technologies such as augmented reality (AR), mixed reality (MR), virtual reality (VR), and holographic images, which change how users perceive the world and will lead to a new immersive experience. AR, MR and VR show potential for increased productivity, with the next generation of VR able to sense shapes and track a user's position and MR enabling people to view and interact with their world.
By 2022, 70% of enterprises will be experimenting with immersive technologies for consumer and enterprise use, and 25% will have deployed to production. The future of conversational platforms, which range from virtual personal assistants to chatbots, will incorporate expanded sensory channels that will allow the platform to detect emotions based on facial expressions, and they will become more conversational in interactions.
Eventually, the technology and thinking will shift to a point where the experience will connect people with hundreds of edge devices ranging from computers to cars.
Conclusion?
Change is inevitable, except from vending machines. The only constants in life are death, taxes, the Eagles likely winning the Super Bowl again, and the 76ers and Flyers disappointing me yet another season.
The story is not finished yet, in spite of what some say in the press and conferences. But contrary to some much-stated public opinions from flat earthers, cable not only has a long life, it has a long useful life ahead of it. I hope you come along for the ride but buckle in tight! This is a water ride, you will definitely get wet.
---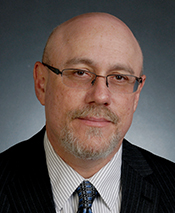 Jeff Finkelstein
Executive Director of Advanced Technology
Cox Communications
Jeff.Finkelstein@cox.com
Jeff Finkelstein is the Executive Director of Advanced Technology at Cox Communications in Atlanta, Georgia. He has been a key contributor to the engineering organization at Cox since 2002, and led the team responsible for the deployment of DOCSIS® technologies, from DOCSIS 1.0 to DOCSIS 3.0. He was the initial innovator of advanced technologies including Proactive Network Maintenance, Active Queue Management and DOCSIS 3.1. His current responsibilities include defining the future cable network vision and teaching innovation at Cox.  Jeff has over 43 patents issued or pending. His hobbies include Irish Traditional Music and stand-up comedy.
---
Shutterstock