TEST / MEASUREMENT
---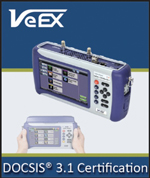 DOCSIS® 3.1 BUSINESS CERTIFICATION
VeEX Inc. For all your Business Certification installations, you only need one box, one tool, no modules—the CX350s-D3.1. With its comprehensive SLM, advanced T1/PRI, DOCSIS 3.1, OFDM Analysis, 10 Gig-Ethernet, and SIP Trunk PESQ Voice Quality testing capabilities, you can enhance the customer experience through improved and efficient installations. Equipped with a large 7" touch-screen color LCD and an intuitive GUI, the 'All-in-One' CX350s-D3.1 is the ideal tool for MSO services.
510-651-0500
---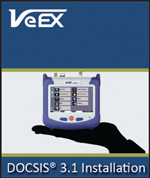 DOCSIS® 3.1 INSTALLATION
VeEX Inc. Equipped with a DOCSIS 3.1/3.0 Cable Modem supporting true OFDM measurements VeEX's CX310 is a lightweight, ultra-portable meter suitable for every installer. Subcarrier Scan, a key feature, provides best-in-class OFDM metrics on a subcarrier basis, allowing technicians to detect noise impairments under the OFDM carrier. In addition, VeCheck is a fast, full band system scan that measures level, MER, and/or BER on a fully loaded plant.
510-651-0500
---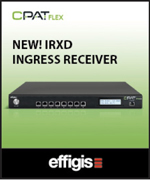 INGRESS R-PHY COMPATIBILITY
Effigis Newest member of our ingress detection platform, the IRXD supports full-spectrum DOCSIS 3.1 specifications in a DAA Remote PHY CCAP deployment. It is installed in the headend where the elements of the CCAP core reside. It provides cable operators with unprecedented scalability, agility and cost savings. The IRXD will detect, measure and localize ingress events on a continuous basis from the legacy ITX2 field devices via the RPD's OOB (NDR) return channel.
888-495-6577
---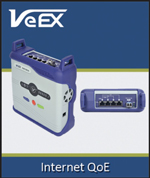 INTERNET QoE
VeEX Inc. The new NET-BOX™ Internet speed test solution is an optimized Quality of Experience (QoE) testing platform that offers service provider technicians a low cost, reliable, high performance FPGA-based alternative to expensive high-end laptops for customer premise speed tests. With a multi-test port architecture (four 1GE, one 2.5GE) and 4 Gbps full line rate capability, the NET-BOX can truly test the limits to verify Quality of Service (QoS) and assure QoE beyond 1 Gbps..
510-651-0500
---
NETWORK MONITORING
VeEX Inc. VeSionTM is a cloud-based One System platform integrating RF monitoring (Return and Forward), MPEG (RF and Ethernet), RFTS, Sweep (Return and Forward), PNM (Return and Forward), RealWORX®, GIS (geographic information system), DOCSIS 3.1 OFDM, DOCSIS Burst Demodulation, Carrier Class Ethernet testing and monitoring, Workflow and Asset Management systems, all under one umbrella. Access VeSion anytime, anywhere using a common web browser or mobile apps.
510-651-0500
---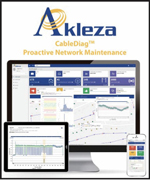 PROACTIVE NETWORK MAINTENANCE
Akleza's CableDiag™ products offer a comprehensive set of PNM tools with a highly graphical, easy to use, mobile friendly, and GIS based user interface; CableDiagEQ™ for Pre-Equalization data analysis, CableDiagRF™ for Full Band Capture spectrum analysis, CableDiag31™ for DOCSIS 3.1 OFDM(A) analysis, and CableDiagUA™ for Upstream spectrum analysis. Identify and correct problems before they impact your customers.
855-4-AKLEZA
---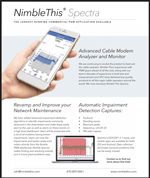 PROACTIVE NETWORK MAINTENANCE
NimbleThis® Offers a competitive technological edge due to our extensive understanding of both cable networks and being the first to market. We service tier one, two, three and four operators worldwide ensuring stable, efficient and economical data networks to bring the best possible service to operations and subscribers. Locate and resolve in-home or outside plant impairments before they impact operations and subscribers. Proactively reduce troubleshooting and issue resolution time. Reduce OpEx, improve workforce scheduling all the while improving reliability and introducing new services. We offer a host of services including DOCSIS 3.1, full band capture, spectrum analysis, GIS, mobile app etc
470-809-0061
---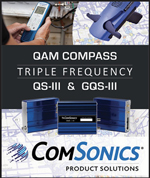 PROACTIVE PLANT MAINTENANCE
ComSonics® provides an entire line of agile, 3-frequency detection that covers your entire spectrum, including LTE bands and OFDM/DOCSIS 3.1! From our QAM Compass for your installation technician, to our QAM Sniffer-III for your maintenance team, we've got you covered. And our fully-automated GQS-III provides simultaneous LTE downlink power measurements, and all leakage, GPS, and LTE data is automatically uploaded to the cloud for easy access from anywhere!
800-336-9681
---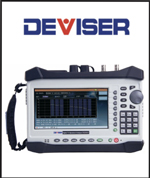 SPECTRUM ANALYZER
Deviser Instruments
Deviser DS2831 OFDM & Docsis 3.1
PNM US Frequency response AND TDR
4-2150 MHz range (100% D3.1 compliant today)
OFDM+SC-QAM / ITU J83A-B-C
47 dB+ MER Dynamic range = 82 dB, NF = -62.5 dBmV @ 300 KHz
Spectral Density showing distortions under US bursty signals
USG (210 MHz) TS MPEGII & IV +TR101290
EVS shows interference under QAM and OFDM signals
Asset/test data management platform
408-955-0938
---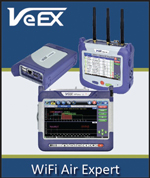 Wi-Fi
VeEX Inc. The WiFi Air Expert product family is the most complete and compact test solution for successful WiFi installations. Supporting 802.11 a/b/g/n/ac standards and spectrum analysis in 2.4 GHz and 5 GHz frequency bands (interference detection included), the Air Expert will make any field technician a WiFi expert. RFC 6349, Speedtest® by Ookla® and site survey capabilities allow you to accurately test QoE and provide quality WiFi service.
510-651-0500
---