TEST / MEASUREMENT
---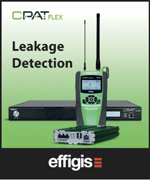 DIGITIAL LEAKAGE DETECTION
Effigis DRV3 digital leakage detector along with the DSG1 Digital Signal Generator accurately tags, detects, and measures signal leakage within the LTE (frequency agile range of 572 to 960 MHz) and aeronautical bands (frequency agile range of 118 to 140 MHz). The DRV3 (Meter/Receiver) functions with the DSG1 dual-band head-end digital signal generator that inserts a low-level test signal between QAMs, without causing any interference or MER degradation.
888-495-6577
www.cpatflex.com
---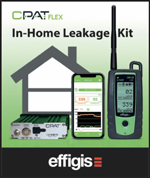 DIGITIAL LEAKAGE SHIELDING INTEGRITY
Effigis Get the installation right. The DRV3/DSG1Lite kit enables in-home leakage with egress/ingress pressure tests. It ensures total quality for in-home and MDU installations, by tracking potential cable shielding integrity issues, and proactively certifying installations before they become costly repeated service calls/truck rolls.
Rapidly detects and locates leak sources;
Eliminates potential interferences from and to LTE frequency bands;
Fully agile, dual-band leakage receiver for both aeronautical and LTE frequencies.
888-495-6577
---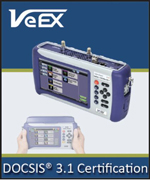 DOCSIS® 3.1 BUSINESS CERTIFICATION
VeEX Inc. For all your Business Certification installations, you only need one box, one tool, no modules—the CX350s-D3.1. With its comprehensive SLM, advanced T1/PRI, DOCSIS 3.1, OFDM Analysis, 10 Gig-Ethernet, and SIP Trunk PESQ Voice Quality testing capabilities, you can enhance the customer experience through improved and efficient installations. Equipped with a large 7" touch-screen color LCD and an intuitive GUI, the 'All-in-One' CX350s-D3.1 is the ideal tool for MSO services.
510-651-0500
sales@veexinc.com
---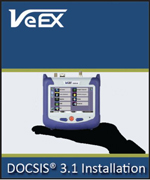 DOCSIS® 3.1 INSTALLATION
VeEX Inc. Equipped with a DOCSIS 3.1/3.0 Cable Modem supporting true OFDM measurements VeEX's CX310 is a lightweight, ultra-portable meter suitable for every installer. A key feature includes Subcarrier Scan, providing best-in-class OFDM metrics on a subcarrier basis, allowing technicians to detect noise impairments under the OFDM carrier. In addition, VeCheck is a fast, full band system scan that measures level, MER, and/or BER on a fully loaded plant.
510-651-0500
sales@veexinc.com
---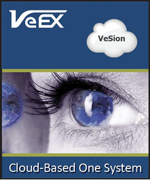 NETWORK MONITORING
VeEX Inc. VeSion is a cloud-based One System platform integrating RF monitoring
(Return and Forward), MPEG (RF and Ethernet), RFTS, Sweep (Return and Forward), PNM (Return and Forward), RealWORX®, GIS (geographic information system), DOCSIS 3.1 OFDM, DOCSIS Burst Demodulation, Carrier Class Ethernet testing and monitoring, Workflow and Asset Management systems, all under one umbrella. Access VeSion anytime, anywhere using a common web browser or mobile apps.
510-651-0500
sales@veexinc.com
---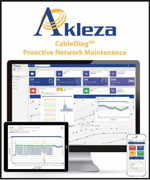 PROACTIVE NETWORK MAINTENANCE
Akleza's CableDiag™ products offer a comprehensive set of PNM tools with a highly graphical, easy to use, mobile friendly, and GIS based user interface; CableDiagEQ™ for Pre-Equalization data analysis, CableDiagRF™ for Full Band Capture spectrum analysis, CableDiag31™ for DOCSIS 3.1 OFDM(A) analysis, and CableDiagUA™ for Upstream spectrum analysis. Identify and correct problems before they impact your customers.
855-4-AKLEZA
sales@akleza.com
www.akleza.com
---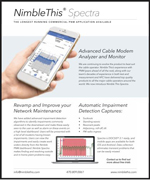 PROACTIVE NETWORK MAINTENANCE
NimbleThis PNM lowers maintenance costs by identifying US / DS RF impairments, then PNM determines if the impairment is in-home or outside plant and relates MAC addresses with the affected CMs, identifying them on a business logistics dashboard and geo-location map. The dashboard points technicians to the impairment location for troubleshooting. Intermittent issues can also be monitored and located without expensive test hardware platforms.
470-809-0061
info@nimble-this.com
nimblethis.com
---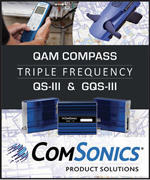 PROACTIVE PLANT MAINTENANCE
ComSonics® provides an entire line of agile, 3-frequency detection that covers your entire spectrum, including LTE bands and OFDM/DOCSIS 3.1! From our QAM Compass for your installation technician, to our QAM Sniffer-III for your maintenance team, we've got you covered. And our fully-automated GQS-III provides simultaneous LTE downlink power measurements, and all leakage, GPS, and LTE data is automatically uploaded to the cloud for easy access from anywhere!
800-336-9681
---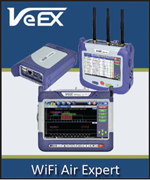 WiFi
VeEX Inc. The WiFi Air Expert product family is the most complete and compact test solution for successful WiFi installations. Supporting 802.11 a/b/g/n/ac standards and spectrum analysis in 2.4 GHz and 5 GHz frequency bands (interference detection included), the Air Expert will make any field technician a WiFi expert. RFC 6349, Speedtest® by Ookla® and site survey capabilities allow you to accurately test QoE and provide quality WiFi service.
510-651-0500
sales@veexinc.com
---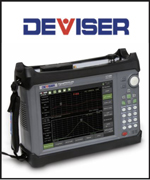 WIRELESS 6.1 GHZ SPECTRUM ANALYZER
Deviser Instruments Combo Antenna and Wireless Portable Spectrum Analyzer E7042/62B
Up to 6.1 GHz range, 1 Hz resolution
4 x 4 MIMO Antenna test
Reflection test and Fault Location
Cable Loss / Tranmission
1 Port Phase Smith Chart
LTEFDD, LTE-TDD, WCDMA/HSDPA, TD-SCDMA, CDMA/EV-DO, GSM/GPRS/EDGE Signal Analysis
Signal Coverage
VFL, OPM & FIP
408-955-0938