BUSINESS SERVICES
---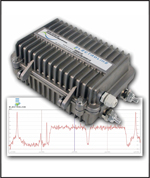 HARDENED CABLE MODEM
Electroline's DOCSIS® 3.0 Rugged Cable Modem products (AQ4 Series) are innovative solutions for generating additional revenue for cable operators. Hardened, industrial grade, high data capacity, strand or pedestal mount & cable plant powered, these devices enable a broad range of IP applications for business services where installation in outdoor environments is required. They are cost-effective, allowing for a short return on investment (ROI) and compatible with third-party IP devices.
800-461-3344
jay.staiger@electroline.com
www.electroline.com
---

LTE Gateway
Lindsay Broadband Inc. Strand mounted LTE small cell deployments become a reality with Lindsay LTE gateway products. Advanced appliances temperature hardened and HFC powered including DOCSIS and optical backhaul with 250 Watt power buss to complete an MSO one box demarcation solution for an MNO LTE small cell. Crafted with 600-700MHz EMI protection our Gateways are compatible with the leading LTE small cell manufacturers.
800-465-7046
contactus@lindsaybroadbandinc.com
www.lindsaybroadbandinc.com