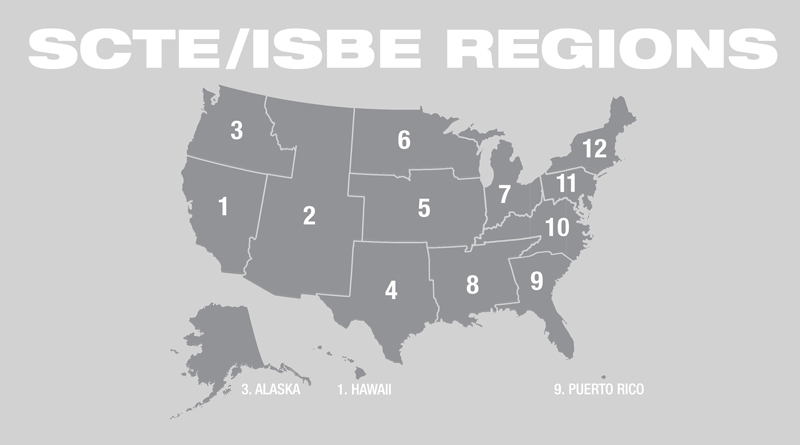 2017 & 2018 SCTE/ISBE Board of Directors and Regional Representatives are updated annually. Find SCTE/ISBE officers and local representatives in 12 U.S. regions and Canada.
---
OFFICERS
CHAIRMAN
Bill Warga
Liberty Global
VICE CHAIRMAN
Tom Adams
Charter Communications
TREASURER
Christine Whitaker
Comcast Cable Communications
SECRETARY
Steve Williams
Charter Communications
PAST CHAIRMAN
Tony Werner
Comcast Cable Communications
Appointed Directors
Ralph Brown
CableLabs®
Kevin Hart
Cox Communications
Ed Marchetti
Comcast Cable Communications
---
SCTE•ISBE Member-Elected Regional Representatives
Region 1
Kalpa Subramanian
Comcast Cable Communications
Representing California, Hawaii, and Nevada
Region 2
Ron Wolfe*
Charter Communications
Representing Arizona, Colorado, Montana, New Mexico, Utah, and Wyoming
Region 3
Randy Love
Comcast Cable Communications
Representing Alaska, Idaho, Oregon, and Washington
Region 4
Abe Robinson*
Charter Communications
Representing Oklahoma and Texas
Region 5
Oak Bandy*
Trilithic
Representing Illinois, Iowa, Kansas, Missouri, and Nebraska
Region 6
Tom Heier*
Midco
Representing Minnesota, North Dakota, South Dakota, and Wisconsin
Region 7
Rudy Dauncey*
Comcast Cable Communications
Representing Indiana, Michigan, and Ohio
Region 8
John Bower
Charter Communications
Representing Alabama, Arkansas, Louisiana, Mississippi, and Tennessee
Region 9
Michael Thibodeaux
Cox Communications
Representing Florida, Georgia, South Carolina, and Puerto Rico
Region 10
Steve Williams*
Charter Communications
Representing the District of Columbia, Kentucky, North Carolina, Virginia, and West Virginia
Region 11
Lawrence Kewin*
Comcast Cable Communications
Representing Delaware, Maryland, New Jersey, and Pennsylvania
Region 12
Joseph Guariglia
Comcast Cable Communications
Representing Connecticut, Massachusetts, Maine, New Hampshire, New York, Rhode Island, and Vermont
Canada
Serge Rochette*
Rogers Cable Communications Inc.
Representing Canada
*SCTE•ISBE Board of Directors Member
---
The Award-Winning  Broadband Library
1998 SCTE Chairman's Award
2007 NCTA Vanguard Award
---
Publisher
Jerry R. Lundwall
7949 South Fillmore Court
Centennial, CO 80122
Technical Editor
Ron Hranac
Editorial Consultant
Jane Lundwall
Lundwall Creative
SCTE•ISBE Consultants
Zenita Henderson
zhenderson@scte.org
Joe Madagan
jmadagan@scte.org
Paul Schneider
pspr@att.net
Circulation
SCTE•ISBE Membership Dept.
140 Philips Road
Exton, PA 19341-1318
(800) 542-5040
Fax: (610) 884-7237
---
Broadband Library® is an exclusive member-benefit of the Society of Cable Telecommunications Engineers (SCTE) and its global brand, the International Society of Broadband Experts (ISBE).
©2018 by Lundwall Communications, Inc. All Rights Reserved. Broadband Library® is a registered trademark of Lundwall Communications, Inc. Published quarterly and distributed to members of the Society of Cable Telecommunications Engineers in the U.S. CPM # 40065056 Printed in U.S.A.